We carry high-quality dinettes that will be sure to meet your requirements in Mooresville.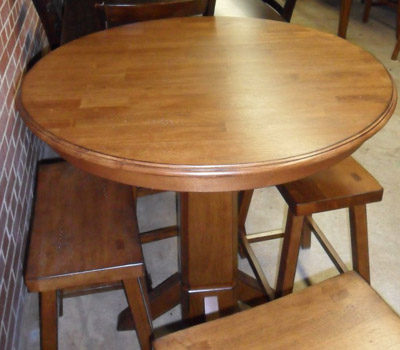 Do you have an informal gathering area in your home and you are looking for the ideal furniture pieces to complete the space? One unique solution that may also provide versatility is dinettes, and at Gibson Brothers Furniture Inc., we carry high-quality dinettes that will be sure to meet your requirements.
Counter-Height – Depending on the size of your space and how you plan to use your dinette, counter-height dinettes can make a beautiful and versatile addition to your space. While they are taller than other dinettes and traditional dining room furniture, they also provide the ability to serve, entertain, and relax in your informal dining space.
Standard – Our standard dinettes are also an excellent choice when you have a specific style in mind for your smaller dining area. These excellent dining room sets are built to last and will add character and charm to any entertaining area in your home.
At Gibson Brothers Furniture Inc. we are here to help you choose furniture that will truly make your home stand out, provide full function, and a more enjoyable place for your family and your guests. When you shop dinettes with us, you will find that we offer better quality and service than a big box store, and you can rely on us to provide the furniture options that truly suit your needs.
With over 60 years of experience helping our customers find the furniture they love, we know you won't need to shop anywhere else when you visit our store. Come by or call today to inquire about dinettes for your home in Mooresville, North Carolina.

---