Our team offers high-quality standard dinettes to help you make your dining area comfortable and beautiful.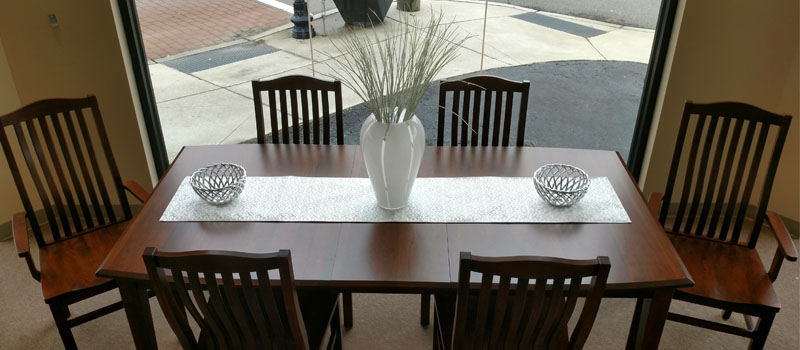 Sitting down to a meal with loved ones is a universal human activity, and our team at Gibson Brothers Furniture Inc. believes that you deserve to have a comfortable place to do that in your home. Even if you have limited space and can't fit in a formal dining table, you can still create a dedicated dining area with one of our dinettes. We offer both counter-height and standard dinettes to give you more flexibility in your design, but each of our options is sure to give you the high-quality experience you are looking for.
For those unfamiliar with the term, dinettes are basically smaller dining tables, designed to seat two to six people, rather than the four to ten range of a formal dining table. If you have limited space, a dinette is the way to go. In addition, the term standard dinette refers to a smaller table that sits at standard table height (28-32"), rather than counter-height (36-40"). Standard dinettes are great for those who prefer a more traditional look and feel or who have young children who would struggle to reach a taller table.
Our team is proud to be a part of the Concord, North Carolina community, and we want to help you make your space as comfortable, functional, and beautiful as possible. If you are looking for the right standard dinette to complete your space, we encourage you to give us a call to learn more about our options or to simply pay us a visit to view our selection for yourself.
---
At Gibson Brothers Furniture Inc., we offer high-quality standard dinettes to those in the Lake Norman area, including Mooresville, Kannapolis, Concord, Troutman, Sherrills Ford, Denver, Salisbury, Statesville, Cornelius, Landis, and China Grove, North Carolina.